BeinGreen offers a high-quality base coating chemical specifically designed for paper surfaces. The base coating chemical by BeinGreen serves as the foundation for various coating systems applied to paper, enhancing its performance and optimizing the final results.
BeinGreen's base coating chemical for paper provides excellent adhesion properties, ensuring that subsequent layers of coatings, such as inks, varnishes, or specialty coatings, adhere effectively to the paper surface. This promotes better print quality, durability, and overall performance of the coated paper.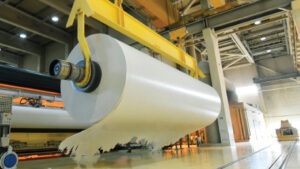 One of the key advantages of BeinGreen's base coating chemical is its ability to improve the smoothness and uniformity of the paper surface. The coating fills in the microscopic imperfections and unevenness of the paper fibers, resulting in a smoother and more consistent surface. This smoothness enhances the printability of the paper, allowing for sharper and more accurate printing results.
Additionally, BeinGreen's base coating chemical helps to minimize ink absorption into the paper fibers, allowing inks to remain on the surface for improved color vibrancy and reduced dot gain. This feature is particularly beneficial for achieving vibrant and high-resolution prints, especially in applications such as packaging, labels, and promotional materials.